It's a pleasure to share our most recent project, an extension of Climb Fit Kirrawee's bouldering wall. This was one of the few projects we were able to work on during the disruptions caused by COVID-19, and we're grateful we were able to do so. Climb Fit Kirrawee had their original build of both roped and bouldering wall sections, and were looking to add some additional bouldering space as well as a training area.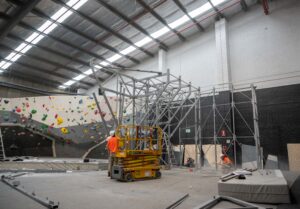 The extension is made up of 90m2 of bouldering wall, which includes a shiny new Kilter training board!
We love building lasting relationships with our clients, and it's always a great feeling when a client comes to us wanting to build an extension to their original wall (or sometimes a completely new facility!).