BOULDER CLIMBING WALLS by ICP
Unrivalled Climber Safety
Bouldering Walls Designed in Australia
With a dedicated, in-house architect and design team, we provide quick and unique designs for your bouldering wall. All designs are created at our Headquarters in Brisbane, Australia, and each venue is unique to our clients' vision. With over 1000 colours to choose from, our architect will create you the wall of your dreams! Our custom carpet-top boulder matting is then designed to fit your venue perfectly. It is tested against Australian fire regulations and meets all Australian Standards.
Behind The Scenes
Our stunning black climbing wall frame will perfectly complement your beautiful indoor boulder wall. This innovative modular wall design interlocks smoothly and our construction method enables your walls to be moved or altered as required.
Colour Your World
With thousands of colours and combinations to choose from, you can make your bouldering wall design as simple or as complex as you like! Choose from a range of colour swatches or match your brand colours, it's all easy at ICP.
Nuts about T-nuts
No more blocked bolts with clear t-nuts! Screw in (not hammer in) for a sturdier, longer lasting t-nut. We offer imperial as standard but also have metric available – we cater to your preferences.
Subtle Attachments
We offer to build discreet access panels with all our bouldering walls, so subtle you won't even know they're there.
Recent Boulder Wall Projects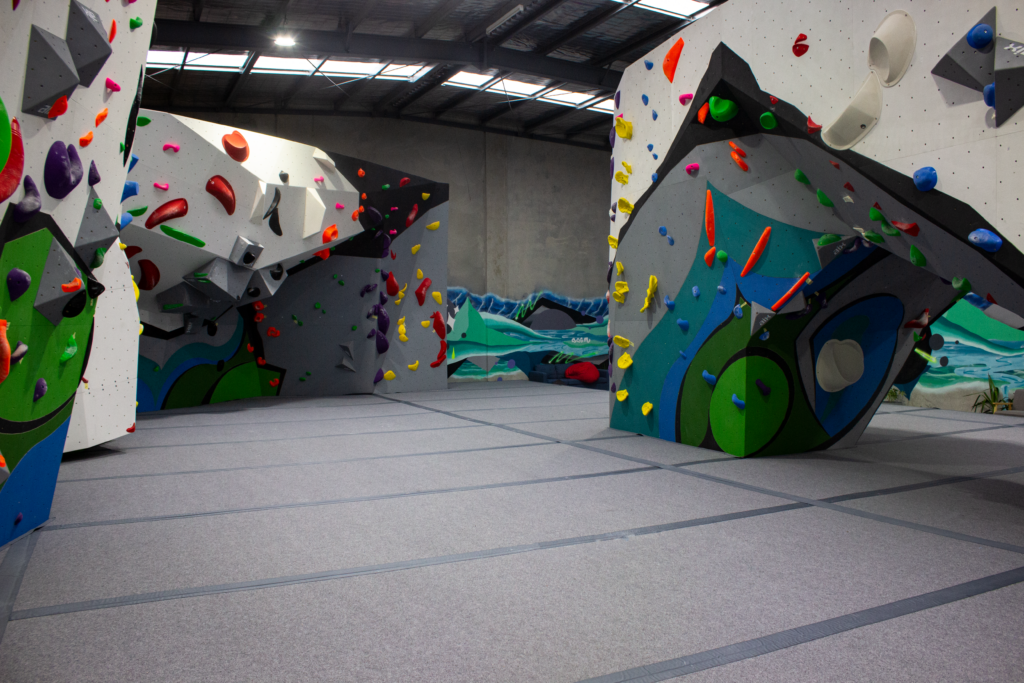 The Crux has all bouldering angles covered; with a cave, lengthy arch, two slabs, and a 35° wall. ICP custom boulder matting is spread throughout the venue. More about Crux Bouldering.
Inspired by bamboo fields, Flow allowed plenty of room to incorporate chill-out areas and spaces to socialise. It features over 340m² of bouldering problems! Read more about Flow Climbing.
This bouldering wall expansion project features a prow (prominent climbing outcrop) and fixed kilter board. See all the stats and figures and design notes from our Climb Fit project.
Boulder Wall Safety Matting
Safety mats around a bouldering wall are required by law. Not only does our matting far exceed Australian Standards, but it looks stylish as well! For more information about our industry leading safety matting check out: Boulder Wall Mats

Bouldering IFSC World Cups
The bouldering World Cups have only been with us for a little over 2 decades under various governing bodies (lead has been around 10 years more). Europeans dominated the sport for many years up until recently when the sport exploded in Asia, heavily influencing world cup titles from then on. From 2015 five of the last six world championships, the champion was either from Japan or South Korea!
Here is Kokoro Fujii, from Japan, winning the 2021 Bouldering World Championship: