WALL DESIGN
Brilliant, Clean Aesthetics
Climbing wall architecture and design
Climbing walls are the perfect canvas for vibrant holds, geometric volumes and funky shapes. ICP Walls are designed to be strong, engineered to Australian Standards and designed to be quickly and accurately assembled on site. ICP plans the layout of our custom safety matting for maximum effectiveness, with no seams or soft spots. With hundreds of colour combinations available, the ICP Design Team have the experience to provide designs that continue to take your breath away.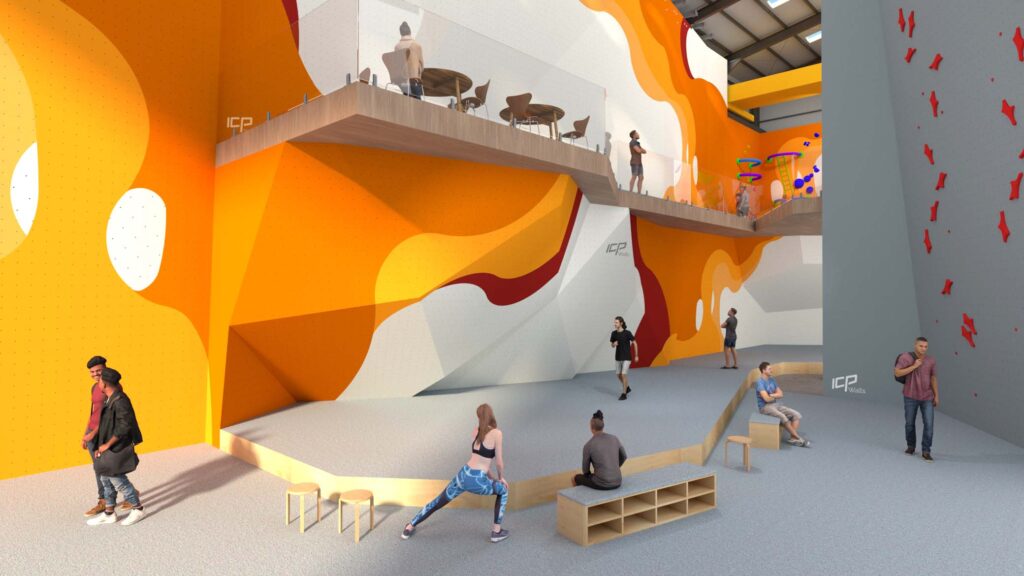 Think about the space
Walls need more room than you might initially think. Consider the size of your matting, where climbers are going to socialise, areas for walking and storage. Natural light and airflow are environmental factors that can be used to your advantage.
The perfect preview
3D modelling is the best way to get a preview of the coming build. All ICP clients receive a complete set of 3D models showing the layout, architecture and colour palette of their future wall.
The team at ICP have combined decades' worth of climbing and design experience, which enables them to create walls like no other. Whether it's matching your paint design to your brand colours, or coming up with something completely new and amazing, our team will create the wall of your dreams. Our dedicated Route setting team often consult on the wall design, ensuring all walls are route-setter friendly.
Who wants to climb?
It's a great idea to keep your target market in mind, such as children, novices, or advanced climbers. Kids are often drawn to vibrant colours and climbs that are not too steep. Serious climbers like a bit of calm and kids can be noisy, so have a dedicated area for both.
Consider timing such as weekdays and weekends, school holidays and public holidays, and environmental factors such as day and night-time traffic or summer vs winter climates. Is the venue near the beach or close to the mountains? All these factors will impact the design of a quality climbing wall.
The are no industry standards for design specifically but there are several Australia Standards relating to the architecture and construction of a climbing wall. For a complete list of the Australian Standards we follow, visit our climbing wall page.
Safety Matting Design
The ICP Research and Development team are constantly working to improve the design and safety of our custom matting, making it the best on the climbing market today. Vinyl-covered matting can get crumpled easily, allows dirt to get transferred from climbers' shoes onto the wall, and doesn't wear well. Our carpet top lid is long-lasting, stays clean, and looks simply beautiful. More about ICP climbing mats here.